OUR 2020 CONFERENCE SPONSORS!
To reach them directly, click on their image.
As Canada's Fitness for Duty experts, DriverCheck's top priority is the safety of your staff and workplace. Since its inception in 1996, DriverCheck has grown to become the leading provider of medical testing and assessments in the country. Physician-owned and operated, DriverCheck strives to provide superior medicine and best practices in all medical testing.
Currently, DriverCheck serves over 6,400 employers, with access to over 1,000 testing facilities strategically located across the country, providing easy access to all medical services. DriverCheck conducts over 300,000 (instead of 265,000) medical tests annually in a variety of industries including healthcare, transportation, oil and gas, construction, mining and forestry. Our diverse service offerings include alcohol and drug testing, fatigue management, occupational health and injury management programs.
To learn more about DriverCheck, visit www.DriverCheck.ca.
Contact:  Connor Page
Cell: 647-588-7671 or 1(800) 463-4310
Email: ConnorP@DriverCheck.ca
Website:  www.DriverCheck.ca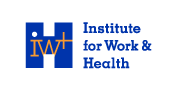 The Institute for Work & Health (IWH) is an independent, not-for-profit research organization based in Toronto, Canada. Our goal is to protect and improve the health and safety of working people by providing useful, relevant research to prevent work-related injury and illness, and promote recovery and return to work following injury and illness.
To keep up on our latest findings, events and free resources, subscribe to our monthly e-newsletter: www.iwh.on.ca/subcribe.
Occupational Health Works is a team of dedicated professionals whose practice is maintaining your companies greatest asset, employee health, while at the same time helping your company achieve regulatory compliance.
Occupational Health Works offers a variety of services to meet your Health & Safety needs including:
Hearing Testing
Physician Medicals
Pulmonary Function Testing
Chest X-rays
Biological Sampling
Respirator Fit Testing
As OH&S professionals, our goal is to offer you options that work well within the scope of your business
Tel.:1-866-464-9757
Email: info@ohclinic.ca
Website: www.ohclinic.ca
Parklane has become a key component of simplifying the administrative duties of the occupational health nurse. Our intuitive software products are designed to assist you with: Incident Reporting/Claims Management, Non-Occupational Disability Management, Work Accommodation, Workplace Inspections/Risk Assessments, Immunization/Outbreak Management, Charting and more.
Contact:  Sarah McCarthy
Tel.:  519-657-3386
Email:  information@parklanesys.com
Website:  www.parklanesys.com
Public Services Health & Safety Association (PSHSA)
Providing easily accessible client-focused solutions is the key to eliminating workplace injuries, illnesses and fatalities. Let PSHSA help keep your workers safe at www.PSHSA.ca and healthy at www.healthy-worker.ca.
Find your consultant Here.
TSI Incorporated offers accurate, real-time measurement instruments for respirator fit testing, exposure monitoring, IAQ monitoring and HVAC testing. Get in touch with intelligent solutions and see the next generation PortaCount® Respirator Fit Tester, Q-Trak™ IAQ and DustTrak™ Aersosol Monitors.
Contact: www.tsi.com/contactus
Tel.: 1(800) 874-2811
Website: www.tsi.com
Walsh & Associates is a multi-disciplinary organization of experienced occupational health professionals serving both public and private sector clients in Ontario, with consulting clinics in both Belleville and Kingston, Ontario.
We provide unique expertise and value to multiple diverse clients through our
three integrated operating divisions:
Occupational Health Services
Travel Health Clinics
Professional Safety Services
Email: admin@walshandassociates.ca
Website: walshandassociates.ca
Wellpoint Health Ltd. is a national leader in helping employers reduce workplace absences and injuries. Our integrated solutions and services provide our customers the ability to work with one partner that provides the tools and resources companies rely on to keep their workforce healthy, productive, engaged and safe – while reducing absenteeism and increasing productivity.
Wellpoint provides an array of services which include:
Onsite Health Professionals,
Onsite Occupational Health and Safety Services
Occupational Health Surveillance
Workplace Audits
Disability Management and Return to Work
Virtual Health Solutions and Absence Prevention
Independent Medical Evaluations and Assessments
Contact: Janine Patrick
Tel.: 1(833) 797-4633
Email: info@wellpoint.ca
Website: www.wellpointhealth.ca